AKC Trick Dog Now you don't have to have an AKC registered dog to take this course! You can just learn tricks for fun! Or, we can explain how you mixed breed can also get a certification and Title! We offer 10 tricks to start, we will be adding more and more. This is a super fun class to teach tricks to your dog! Paws up-great confidence building game, say your prayers-so fun to show off to friends and family. Find it-also know as Shell Game will teach your dog to use his nose! Find it is great to see if your dog like to use his nose!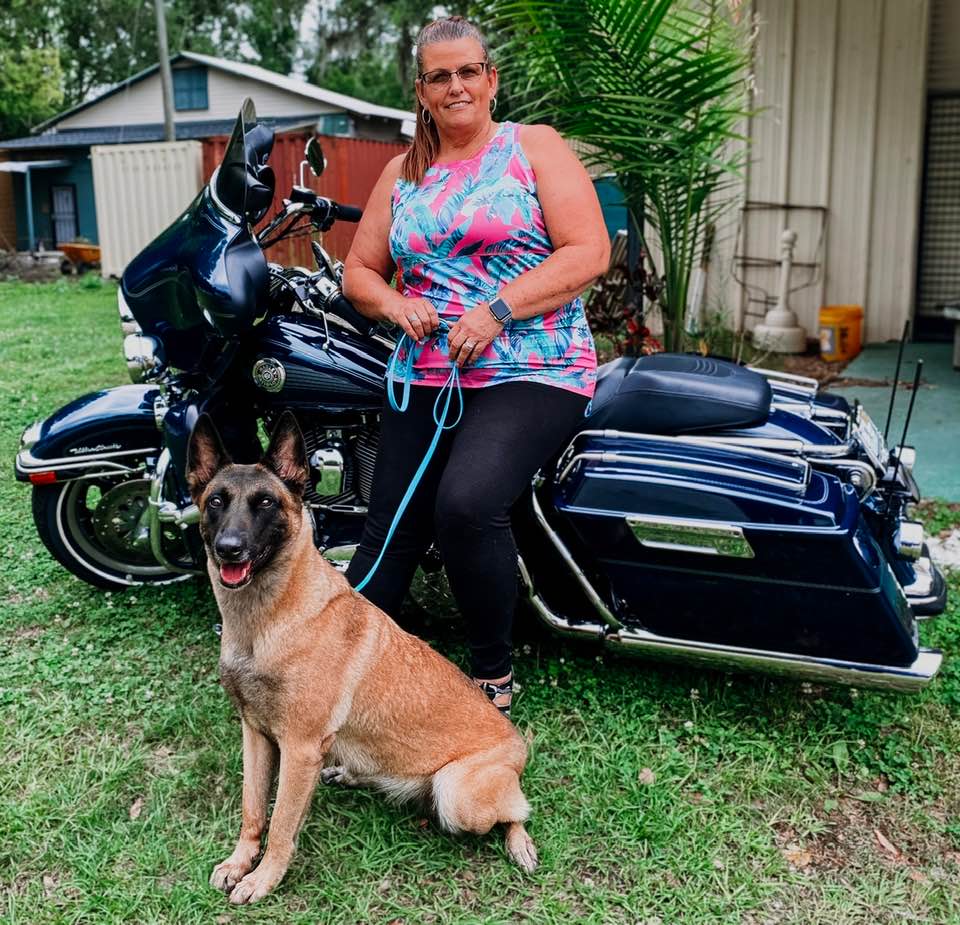 Anne Baxter is originally from Julian, California and moved to Jacksonville, FL in 1979. She began taking classes from a local dog training club back in 1982 and that was where her teaching abilities blossomed. Anne joined a couple of all breed clubs in Jacksonville, Florida where she started teaching dog training classes. 38 years later Anne continues training dogs and owner and loves every minute of it!
Anne has put several titles on her personal dogs and competed in many dog sports over the years. She has titled dogs in AKC Conformation, Obedience, Rally, Trick Dog, Fast Cat, Lure Coursing, Dock Diving, and Schutzhund. Anne has continued her education through the years by obtaining multiple dog training certifications and currently attends seminars on a yearly basis, in addition to teaching seminars. She is also a Professional member of the International Association for Canine Professionals (IACP) and has passed the Certified Dog Trainer Exam (CDT).
Anne is a Breeder of Merit with the American Kennel Club (AKC) and has been showing and breeding Australian Cattle Dogs since 1984. She has bred and completed many Championships and Grand Championships on her dogs under her kennel name Creekside. Anne now has Belgian Malinois that she shows, breeds, and competes with in Obedience and Conformation.
Anne considers herself a trainer, not a professional handler; although she has handled other people's dogs to their championships and other sport dog titles. She has also coached clients to championships and national rankings in the conformation ring. What Anne genuinely enjoys is helping people train their dogs and solve problems in both the ring and in homes companions.
Anne is committed to training dogs using balanced methods of positive reinforcement and consequences to bring out the best in every dog she works with. She teaches all levels of companion dog classes in addition to, AKC Rally, and Trick Dog classes. Anne also offers behavioral consultations, and rehabilitates aggressive dogs.
Clubs: Australian Cattle Dog Club of America, (BOD)-Mid Florida Australian Cattle Dog Fanciers-(President), Australian Cattle Dog Club United-(Secretary), Schutzhund Club of America, North Florida German Shepherd Club, Jacksonville Dog Fanciers Association-(Membership and Lectures), Sunshine State Herding Group Association (Secretary, Membership, BOD), Greater Orange Park Dog Club-Current President & Show Chair), International Association Canine Professionals (IACP), Pro Dog Trainers Association 2018, CDT.
Master Trainer's Course Fit Paws 2014
Do More with your Dog Tick Dog Training Instructor 2015
AKC Canine Good Citizen, S.T.A.R. Puppy, Trick Dog Instructor 2009
Founded:
Black Creek Obedience Training 1985
Creekside Obedience Training 1989
Current:
Dog Obedience Group of Jax, Inc. 2014
Train with Games 2019